Pilates at All levels, for All Ages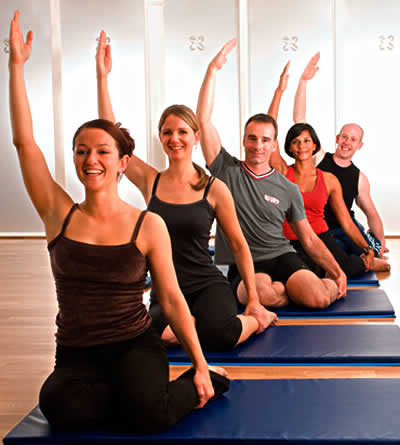 orthoPilates classes
orthoPilates provides a comprehensive range of Pilates matwork classes in North London and, at the Body Control Pilates centre in Central London.
We work closely both with individuals and small groups committed to improving their own bodies and themselves: refining posture, addressing aches and pains and most importantly developing core strength in order to retain (or regain) a sleeker profile and an active healthy body.
Public Classes
All orthoPilates' classes are kept small to ensure personal attention and detailed coaching. Work with us to build your core strength and stability from the inside out, targeting your deep postural muscles, challenging back aches and other pains, fostering a new flexibility.
Introduction to Pilates [Basics]

(this is an occasional course, workshop or private session, run according to demand). If you are an absolute Beginner, it will ensure that you are familiar with the principles, practice and language of Body Control Pilates and that you have a safe and enjoyable Pilates experience with us from the start.



Beginners and Beyond (Improvers )

This will take you from Beginners level through to Improvers including some Intermediate skills,  in a class that hopes to keep your Pilates practice moving forward with exercises and progressions to suit all levels.
The classes will prepare you for progression towards the Intermediate level (Dynamic Pilates).



Dynamic Pilates (Intermediate)

These 'Dynamic Pilates' classes (Intermediate level) will progress your fitness and flexibility, endurance and mobility while refining body alignment and addressing your individual needs.
From stability and core strength through to mobility and the whole elastic body in a flowing dynamic Pilates style.

If you've been doing Pilates and are looking for a deeper understanding of your body, its limitations and its potential to become stronger and more flexible, then these Dynamic Pilates classes may be for you.

Join us for a journey of discovery and exploration, with personalised support and coaching in a small class, as you realign your posture and rebuild core strength with an hour of flowing Intermediate Pilates, reinforced by a half hour of Release and stretching relaxation.

The class enjoys a relaxed atmosphere of exploration rooted in, but not bound by, Joseph Pilates' classical form and principles. It is open to anyone with a significant ability and recent experience of Pilates at Improver level or above. Back Pain issues will NOT necessarily prevent you from joining.



Pilates for All Ages

Gentle class focusing on Alignment, Breathing and Core strength. Over fifties and seniors are most welcome
The class will build up your strength, flexibility in moving and walking, balance and Bone Health.

Classes are deliberately kept small, which fosters an equitable coach-client relationship, allowing careful focus on individual progress and graded exposure to exercise patterns. 'Pilates Improvers' classes have a limit of 10 to 12 while 'Pilates Intermediate' as well as 'All Ages' and 'Healthy Backs' classes are capped at 8 clients. Back4Good® classes start out as one to one sessions, but which may progress into 'quartets'.
As skills and understanding of Pilates advance, we retain focus on the functional application of Pilates to the demands and constraints of modern life - from peering at a mobile or desktop screen to sports, to leisure walking and to making sure you use the gym machinery correctly.
Public classes are held on Tuesdays and Thursdays, with the remainder of the week devoted to private sessions and referrals from associate physiotherapists and osteopaths. Please check the timetable for further information and the booking service for details of pricing.
Special focus classes and private sessions include:
general and chronic Lower Back Pain
for Seniors (All Ages) 50 .. 60 ... 70 .. 80 and growing (in strength as well as age).
For Mature and Senior individuals, Pilates offers a gentler way to stay fit and able - and it pays close attention to a slowly changing posture, preventing back pain and retaining core strength.
These classes strengthen you in your Activities of Daily Living, they work towards fall prevention and improve your balance and control.

Classes to combat osteopenia and osteoporosis, rebuilding bone strength and density through specific exercises, as well as training you in what movements and positions to avoid.
Pre- and Post Operative Hip replacement:
prepare for the op, and afterwards lose that limp and learn to use your brand new, potentially painless hip

Getting back to normal after muscular and postural injuries.
Private ante-natal classes by arrangement,
Special group classes for closed or corporate or business communities.
One to One Coaching and Duets:
All of the above are offered in private coaching sessions either in the comfort of your own home or in our studio environments in North London, Central London (at the Body Control centre) . These classes also incorporate video analysis tools (optional) to help you see and understand your alignment strengths and weaknesses.
Prices and options are here.
Joining our classes:
Before joining a class please contact orthoPilates to discuss your needs. You will be asked to fill in an [electronic] enrolment form and to register with our booking service. Then you can
book yourself into classes
subscribe and buy a six- pack' of classes (cheaper option)
later, if need be, you can reschedule your classes online.
Please have a look at the timetable to see how the classes and the 'monthly packs' work.
Please note that classes at the Body Control Centre and at Pilates South-West need to be booked separately. Please contact us.
First-time Beginners
If you are new to Pilates, you are most welcome.
You will need to start off with a Beginners/Backpain class or attend the Introduction to Pilates course, which runs 'on demand'. Alternativewly it may be right for you to have a special one to one foundation class, which can be arranged on enquiry. Please contact us to set this up.
This will ensure that you are familiar with the principles, practice and language of Body Control Pilates and that you have a safe and enjoyable Pilates experience with us from the start.
In addition it allows us to have a more educated idea of one another and to be able to focus on your individual situation during subsequent classes.